10th All India Stone Architectural Awards
---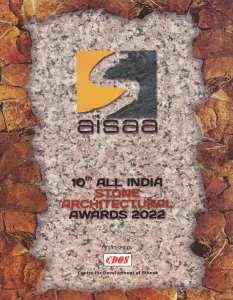 All India Stone Architectural Awards (AISAA) is being organised by Centre for Development of Stones (CDOS), Jaipur, India to recognise and honour usage of natural dimensional stones in India. It is a b
iannual
competition held in Jaipur and is awarded to outstanding projects; the concepts and technical procedures of which correspond to an idea of "Creativity and Excellence" in the use of natural stones from India.
To honour excellence and innovations in usage of Indian dimensional stones in buildings & landscapes

To provide an opportunity to architects to demonstrate their exemplary works to fellow professionals and the public at large

To celebrate recent achievements of architects and firms in the field of stones
To encourage public interest in stone architecture

To encourage stone industry to make a meaningful contribution in creating innovations in stone products and applications

To encourage usage of stones as green building material
AWARD CATEGORIES
Winners shall be selected in four categories, which are listed as under:
Exterior Facings
Interior Designs
Landscaping
Green Architecture
IMPORTANT TO AWARD
Entries shall be considered for AISAA with respect to creativity and excellence in usage of Indian natural stones only in buildings and landscapes or components thereby.
The award To Include
A shield
A citation
A cash award of Rs.100,000/- (Rupees One Lac only) in each category.
Should the award be given to a joint work of two or more persons, the sum will be divided equally between the winners.
10th ALL INDIA STONE ARCHITECTURAL AWARDS
Chief Executive Officer
Centre for Development of Stones (CDOS)
SP-8, Phase-IV, Sitapura Industrial Area, Sitapura, Jaipur – 302022, Rajasthan