Welcome To India Stone Mart 2024
---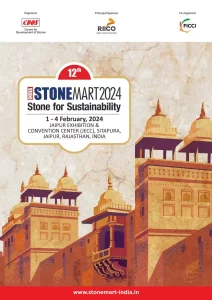 India Stonemart is the largest international exposition on the stone industry which showcases the world of natural dimensional stones, ancillary products, and services comprehensively. The event would bring together various stakeholders of the stone industry viz domestic and overseas producers, exporters/importers, consumers and buyers, experts, technology providers, architects, builders, developers, corporates, etc. under one umbrella.
India Stonemart 2024 would provide an ideal platform to the exhibitors to promote their products, services, and brand image amongst the consumers from across the globe and establish business linkages and networking with them for enhancing their business horizon and prospects. The event is organized by CDOS with FICCI as co-organizer and is supported by the Government of Rajasthan and other reputed institutions. Rajasthan State Industrial Development & Investment Corporation Ltd. is the Principal Sponsor.
India Stonemart has created a niche for itself in the international stone exposition scenario and the participants are offered the best of quality infrastructure, facilities, and services. With the ever-increasing number of exhibitors and a record number of business visitors, India Stonemart is an ideal springboard to negotiate business deals, network with the stalwarts of the industry, and to simply do the business.
PARTICIPATE IN INDIA STONE MART 2024
Jaipur, the venue for India Stonemart 2024, is a city where stone architecture reinvents itself at every turn. Its heritage hotels, palaces, temples and forts bear testimony to the natural stone fascination of erstwhile Rajputana. Modern construction carries similar signature themes and elaborates definitions of dimensional stone applications. Besides being renowned for its living heritage, Jaipur is also winning acclaim as a throbbing centre for stone quarrying, processing and stone handicrafts.
Venue: Jaipur Exhibition & Convention Centre
(JECC), Sitapura, Jaipur
Stone quarry owners and stone processors

Value-added stone craft units

Exporters & importers of natural stone products

Manufacturers, traders & exporters of stone related machineries & equipment, tools and
consumables

Transporters and other service providers for stone industry

Testing & standardization organisations

Technical experts & consulting organisations

Trading & marketing organisations

Chambers of commerce

Associations related to stone industry

Technical press & media
Natural stones

Stone products

Natural stone related machinery, equipment,tools & consumables

Services related to the natural stone industry,trade, press and associations

Natural stone technology

Safety & environment protection

Conveying & transportation

Packaging
India Stonemart – Look Back
---
The 11th edition of India Stonemart International Stone Industry Exhibition was organized by CDOS and FICCI at Jaipur from 10-13 November 2022. It was an overwhelming success and drew great accolades from all stakeholders of the dimensional stone industry, including quarry owners, processors, exporters, importers, tool & machinery manufacturers, builders, architects, institutional buyers and civil engineers besides the general consumers.
Eleven editions of Stonemart held so far opened new chapters in the growth of the Indian stone industry by drawing the attention of the world stone industry to India as a potential hub of stone trade.